Leah Partridge
Vocal Instructor
Frequently asked questions
How do you offer voice lessons?
---
Under 'normal' circumstances, we offer one-to-one voice lesson in person and online. Due to the current COVID-19 public health emergency, to preserve the health and safety of our students, we are offering lessons online only. We use various online platforms to host lessons and during the onboarding process will send you a link to join your lesson.
---
Who trained you?
---
I received my Master's of Music in Voice Performance and Pedagogy at The Jacobs School of Music at Indiana University and studied with Virginia Zeani. She was my BEL CANTO mentor. She helped me become an opera singer and gave me incredible knowledge of style in Italian and French repertoire. I studied with her for 10 years. She's a legend, having performed in the 1940's -1960's during the big renaissance of Rossini, Bellini, and Donizetti. Check her out.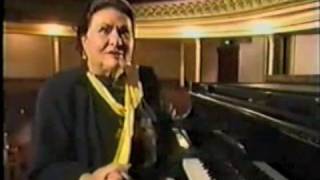 I have studied with the following people over the course of my career and continue to take lessons out of my curiosity for different methods of teaching and desire to learn. Renata Scotto Patricia Sage Mary Dunleavy Courtenay Collins Eckhardt (CCM) Judith Natalucci BM in Music Performance at Mercer University Bridging Classical to CCM at Shenandoah University course. YTT 200 hr from Yoga Works in NYC I am a member of The National Association of Teachers of Singing (NATS) and The Speakeasy Cooperative.
---
Who can be a part of the studio?
---
Singers, Actors, Businessy-People, Leaders, Voice Teachers, Choir Directors, Stage Directors, and all other folks wanting to understand how to use their voice and find their true authentic sound. It doesn't matter hold old you are. I can teach from ages 8-99. Serious beginners, professional artists, avocational performers who have a love and curiosity for learning are all welcome! I'm considered to be a teacher who likes to make a plan and work towards some serious goals with passion and dedication. So, if you are a dabbler, I'm probably not the type for you. That's just me. But, I am eager to discuss your ideas and direct you to another place if we are not the right fit! So, get in touch.
---
How do I start?
---
Fill out the New Client Info Form. Go straight ahead to book the 70-90 minute Fit Session where we sing and you discover my teaching style and I discover your learning style. During this lesson I will determine if we are a good fit and let you know how we can move forward. Usually we sit on it a few days to process all of the information. Remember, I am highly invested in my students. I want your committment too! Therefore, no hasty decisions. Once we've had our Initial Fit Session and we know we are a good fit, we'll decide the best way to move forward. ~ Drop In's, Semester Plan, or a Customized Goal-Based Package. I'll send you your options. You'll make a choice. I'll send you your contract (usually a minimum four month committment). Once you've signed and I received your first payment we can begin our work together. Have questions? Be sure to read the rest of this page. Still have questions? You can send me a message on the contact form on this website. I will do my best to respond in a timely manner during my office hour.
---
How much (investment level)?
---
It depends. Your experience is yours and is personalized just for you and your needs. Semester Packages (9 month committment) starting around $425 a month and it includes A LOT of goodies like extra master classes, asynchronous and synchronous lesson time, recital, online zoom sings with the rest of the studio, and more. Project-Goal-Based Packages require at least a 3-6 month committment and start @$1200 Getting started is complimentary with a Zoom call. My Initial Fit Session is $160 and you should plan to use 70-90 minutes getting to know me and my teaching. You may also use the Initial Fit to discuss your career plans and to seek guidance on your career direction if you do not want a traditional voice lesson. I do offer drop In's on a First Come-First Serve basis after you have had your Initial Fit Session. You reserve your goal specified session with $125, prepaid, non-refundable retainer. I do offer discounts to family members and pay plan options. All payments are done through the website via Paypal either at the time of booking or after making decisions on plans via an Invoice directing you to PayPal.
---
What do I need for voice lessons?
---
The most important thing you need is the desire to sing and an open mind for learning! There are a few items that will help aid your progress and organization. 1. Computer with good internet. (Wifi is ok but being connected via ethernet cable is best.) It is also recommended that you be on your own independent Wifi if possible. 2. Music stand to help aid good posture. 3. 3 Ring Binder for printed music or a large Ipad or Tablet 4. Print capabilities for extra PDF's I may send (or ability to view on separate device like Ipad or Tablet) 5. Three hole puncher for the 3 ring binder. 6. Mic is optional. Most newer computers are sufficient. If we encounter problems, I can recommend affordable mics. 7. Quiet, private place for practice and lessons. (You'll find better results if you can find a designated place for your practice and online lessons.) 8. Piano Keyboard or Keyboard app for your smartphone.
---
What kind of training do you offer?
---
Singing, Aural Skills, Acting, Public Speaking, Presentation Skills, Audition and Role Prep Establishing yourself as a Portfolio Artist I also offer coaching on Resume Building, Websites, Social Media, and Headshot selection and can guide you to many resources in the Atlanta area and beyond. Workshops are often offered when various artists I know are in town working with the Symphony, Opera, or on a movie set.
---
What are some benefits of studying at The Voice Studio Atlanta?
---
1. I know voice. I've lived the life of a traveling performer and had success on the national and international stage for the past 22 years. 2. I understand what it takes to reach the top of one's game and I understand the obstacles that will come. And, they come. 3. I've performed and worked with some of the greatest singers, conductors, and directors currently working in the industry. I can pick up the phone to ask leaders in the industry questions I don't know. Management needs, issues? I got it. 4. An important part of my job is knowing how the industry is changing and how to adapt to those changes. I subscribe to many publications and private industry social media groups.I am informed. 5. My cozy and state of the art studio is conveniently located in mid-town Atlanta near Atlantic Station. 6. I have a Jack Russell who may appear at your lesson from time to time. Think of him as a voice therapy dog. He knows what it is like to be on stage too. He performed with the Atlanta Opera as Musetta's dog in 2015. He's had a big ego ever since.
---
---